Regular price
Sale price
$47.00 USD
Unit price
per
Sale
Sold out
-No one who loves the woods stays on the path.
A captivating blend of refreshing earthy notes and rich woods captures a journey of self-exploration. Travel to the depths of the forest with the soothing scent of cedar and pine, contrasted by bold pepper and lemon. Sweet and minty notes of nutmeg, angelica root, and galangal with a hint of bitterness redefine the meaning of adventure.
Experience a soulful journey to the heart of nature with NO.003 Wonder in the Woods. Our crystal-infused perfume features tantalizing notes of sandalwood, patchouli, guaiacum, cedar, oud, cypress, pepper, bergamot, nutmeg, Kashmir cypress, and caraway. Feel energized with the power of white crystals and tiger's eye, all combined in an exquisite woody scent that will leave you feeling vibrant and alive.

Front note:
Vetiver, sandalwood, patchouli
Middle:
Guaiacum cedar Oud cypress
Base notes:
pepper bergamot nutmeg Kashmir Cypress  Caraway
Crystal:
clear quartz, tiger eye
Content: vegan perfume ethanol, fragrance, clear quartz, tiger eye

Share
View full details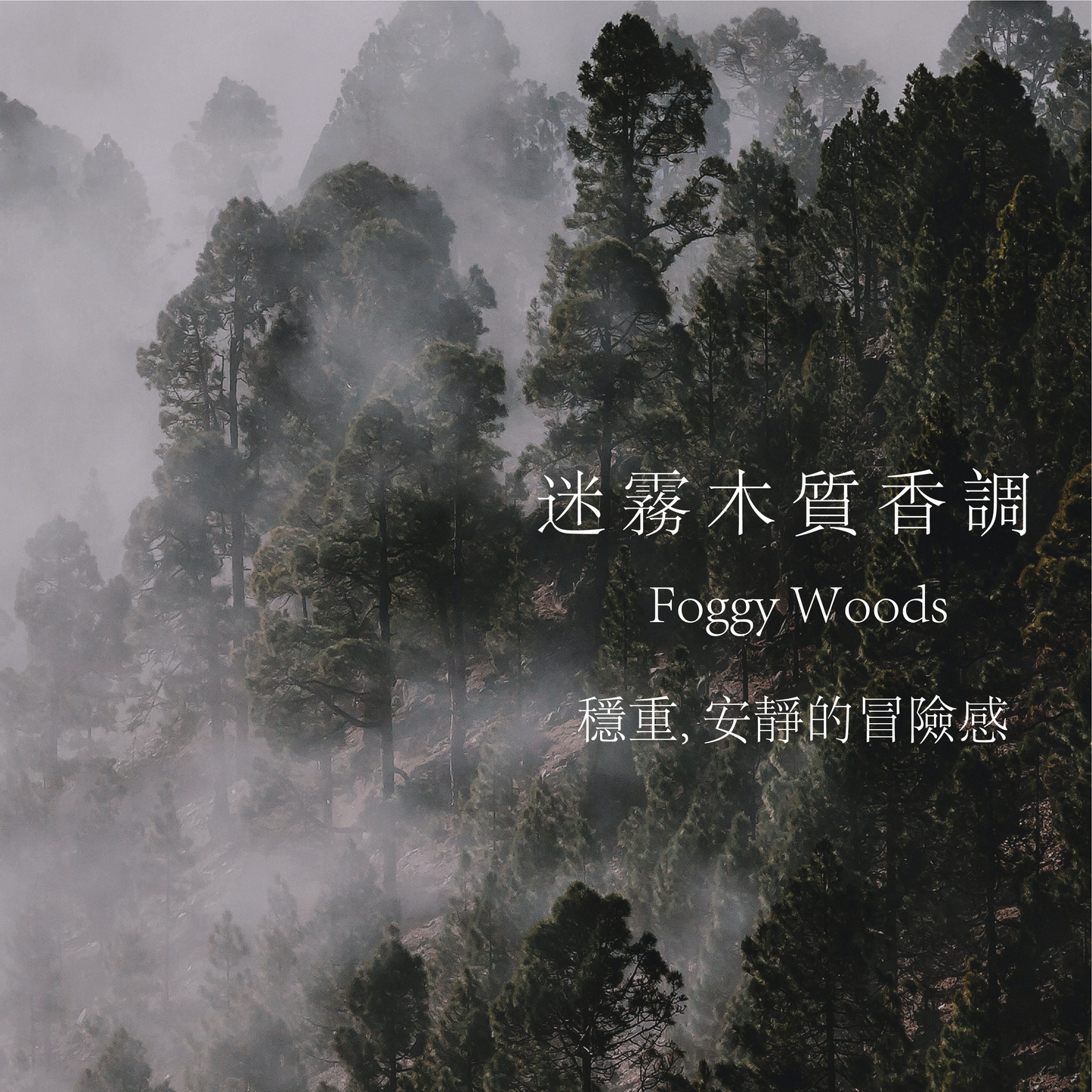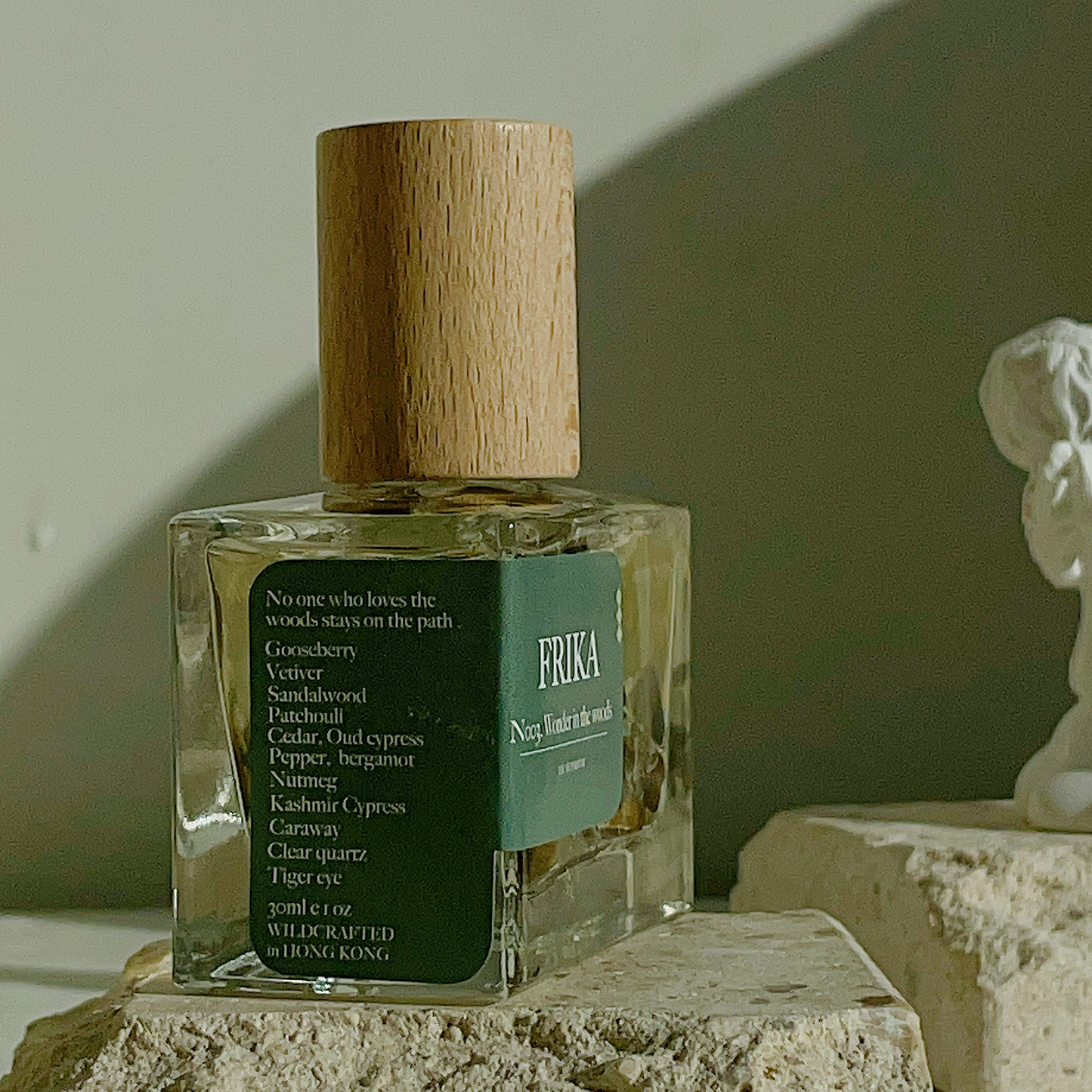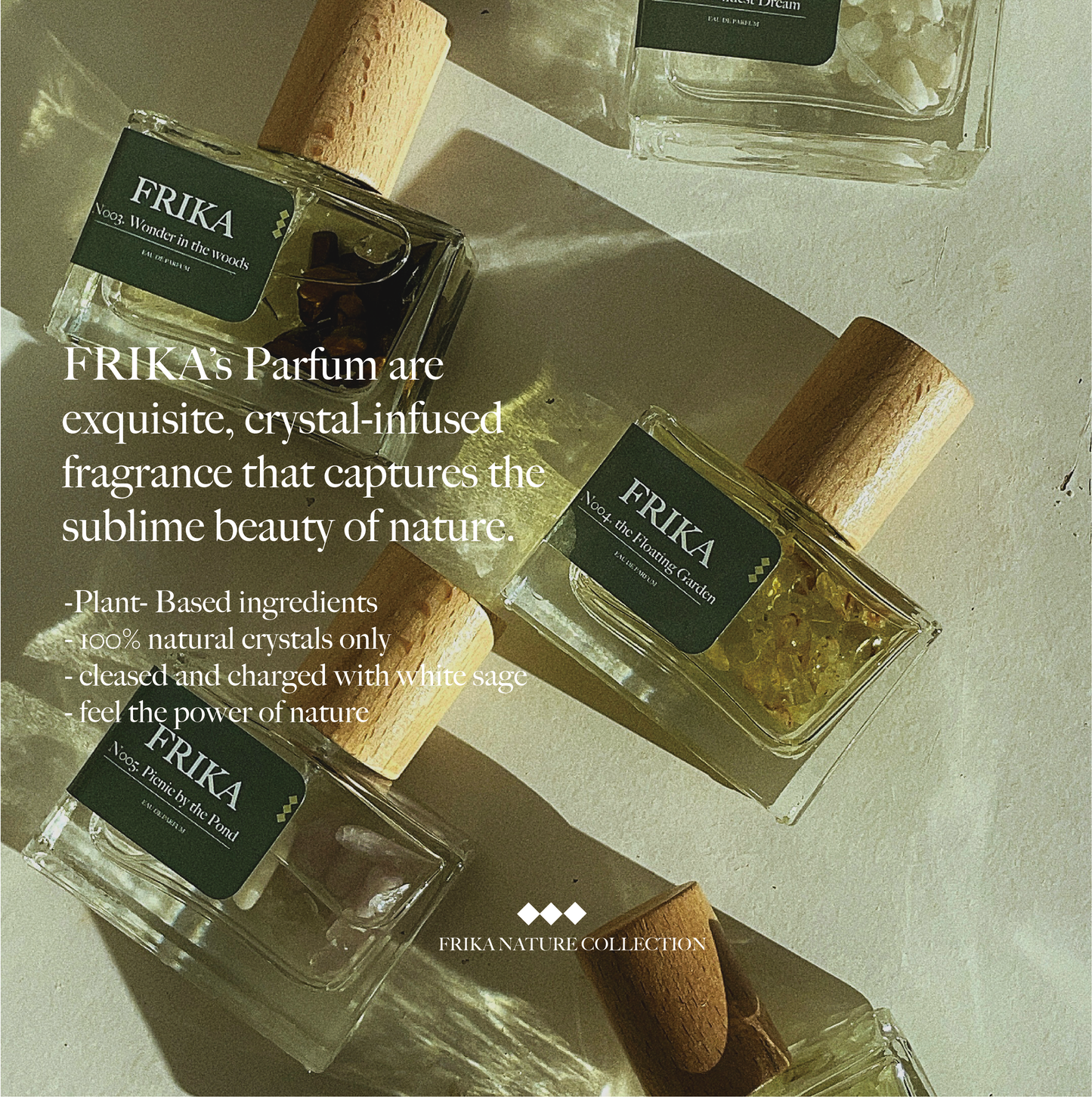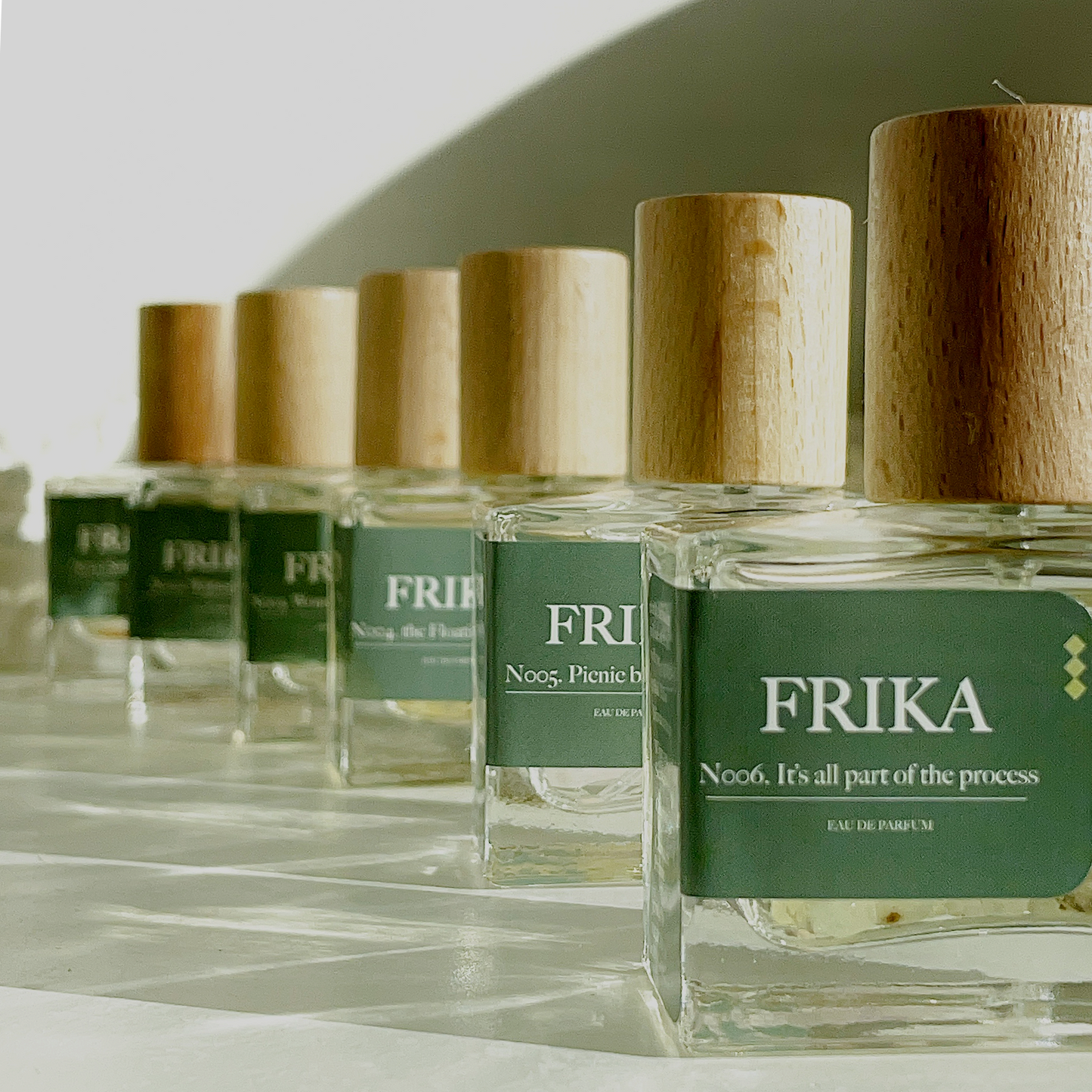 非常喜歡!
小眾高級的香味,噴出去跟好友們聚餐,他們都覺得很好聞!!
Dear Andy: thank you for the purchase and review ! ❤️ FRIKA的特調香氣取材自大自然的靈感, 希望為每一個FRIKA friend打造最放鬆舒適的能量香氛療癒空間✨✨✨
FAQs
✨What makes FRIKA's product so different and unique ?
Bringing the Western adventurous spirit combing with artistic creation, FRIKA's candle & Fragrance is one of the kind. It's a mixing pot of all the natural elements as well as connection with human being. The special burning, smell and relaxing moment is here to take good care of you and boos your energy.
✨What are your Candle made of?
FRIKA's candle is made out of Pure Organic soywax from USA, our cotton core / wood wick imported from USA, We use sustainable products that are vegan, cruelty-free, phthalate-free, and never tested on animals.
✨ What can i do with the Candle Jar?
FRIKA's candle jar is special design and can tolerate high temperature, we encourage for reuse and recycle for plants, storage and be as creative as you can be, it can be put in the oven as well! Surprise us with your creation.
✨Where are the Crystals from?
All of FRIKA's crystals are purchased directly from the origin countries. Before making our crystals into products, our team washed and filter each of  the crystal with pure water, setting it under sun and moonlight, purified with Califorina flora white sage to make sure crystals are pure and charged with energy.
✨What's your shipping arrangement?
FRIKA values your time and we usually ship out in one working day on working days (Mon-Fri) , once the shipping is arranged, we will send tracking number via email to you.
Payment info
FRIKA supports different payment methods for HKSAR
 FPS: Please use the code:103765798 (FREEYARD CO. LIMITED)  to issue the payment, we will arrange shipment once the payment is done.
PayMe: Please scan the Payme QR code (FREEYARD CO., LTD_below to issue the payment, we will arrange shipment once the payment is done.
 Alipay: Please scan the Alipay QR code below to issue the payment, we will arrange shipment once the payment is done.
* If there's any question, please let us know. it's our pleasure to help out!
@FRIKA Nature Collection /  FREEYARD CO., Ltd