Regular price
Sale price
$56.00 USD
Unit price
per
Sale
Sold out
Notes:
Top Notes: Eucalyptus, Basil
Middle Notes: Lavender, Pine
Base Notes: Tonka Cardamom, Musk
Crystal:
Amethyst, Clear quartz 
|Amethyst|
Amethyst is known as the crystal of natural tranquility. The stone carries the ability to enhance passion and creativity while purifying the aura from any negative energy that comes in its way. The purple beauty will relieve any stress, anxiety, and will balance out any mood swings.
|Clear Quartz|
increases energy, provides protection, cleanses and charges crystals, helps with any type of healing
100% Natural Organic Soy Wax Blend + Essential Oil Fragrance Blends. Natural cotton wicks and fully recyclable glass vessels with a Natural wood package. Every crystal has been cleansed with white sage and charged in the sunshine.
TIPS: Always burn candles until the wax pools to the edge of the glass. ESPECIALLY FOR THE FIRST BURN. Otherwise you will get what is called tunneling and that wastes all the wax stuck to the sides of the glass. Don't burn longer than 4 hours. Keep wicks trimmed to 1/4". If crystals fall onto wicks wait until wax cools and use a spoon to guide the crystal back to the side wall of the glass. When your candles is finished cleanse crystals and vessel with hot water and soap. 
Share
View full details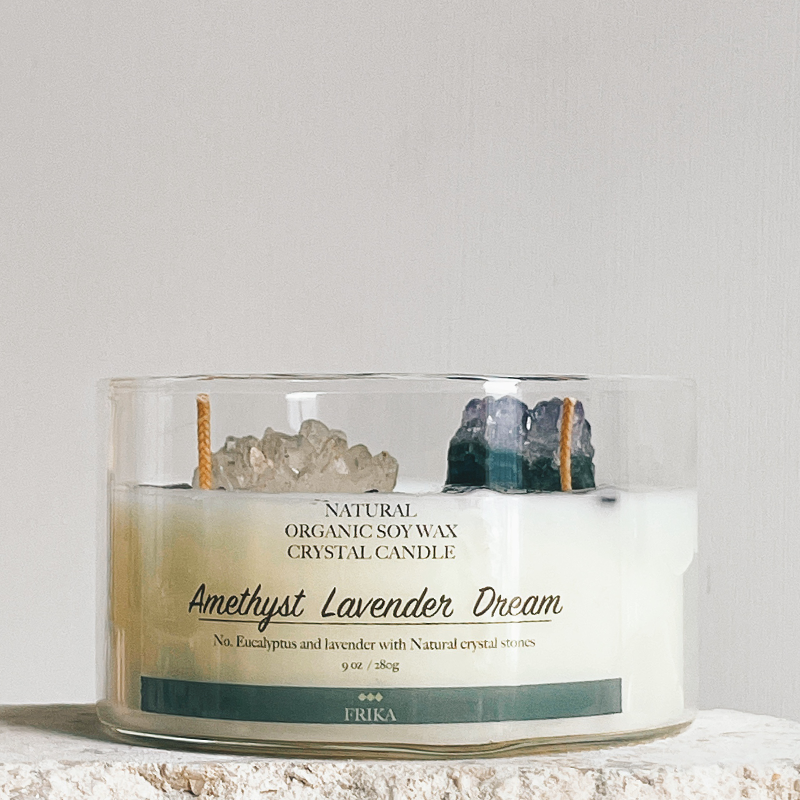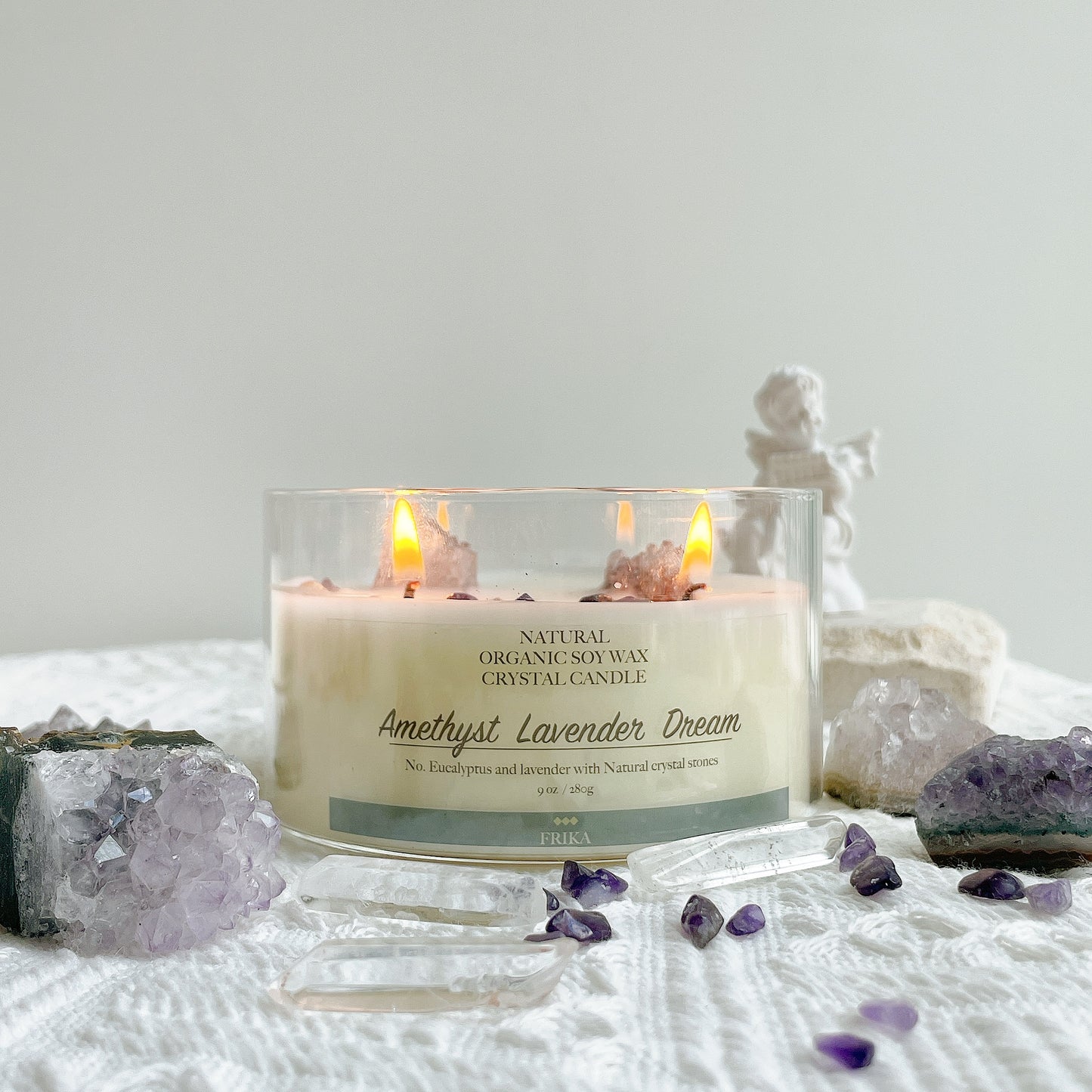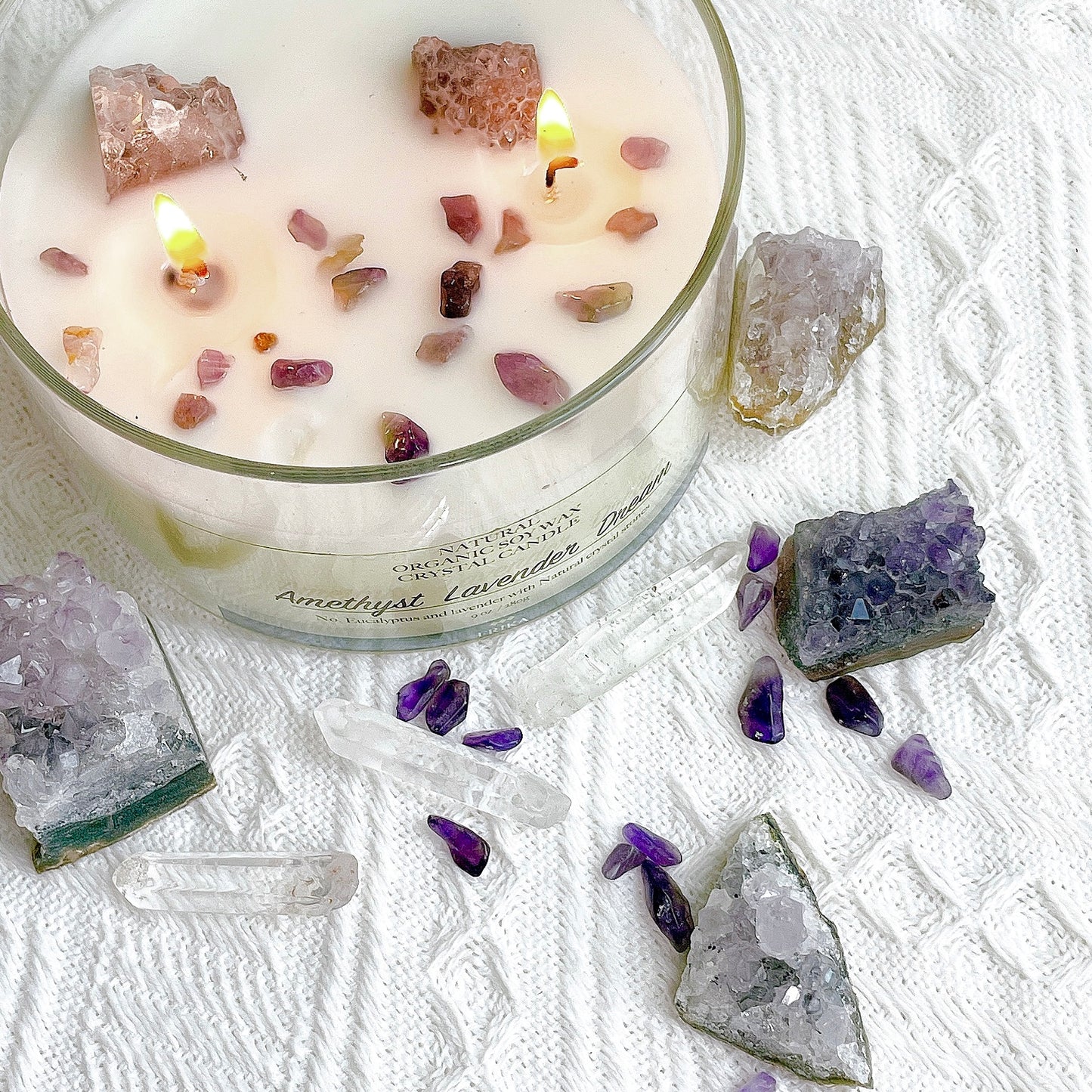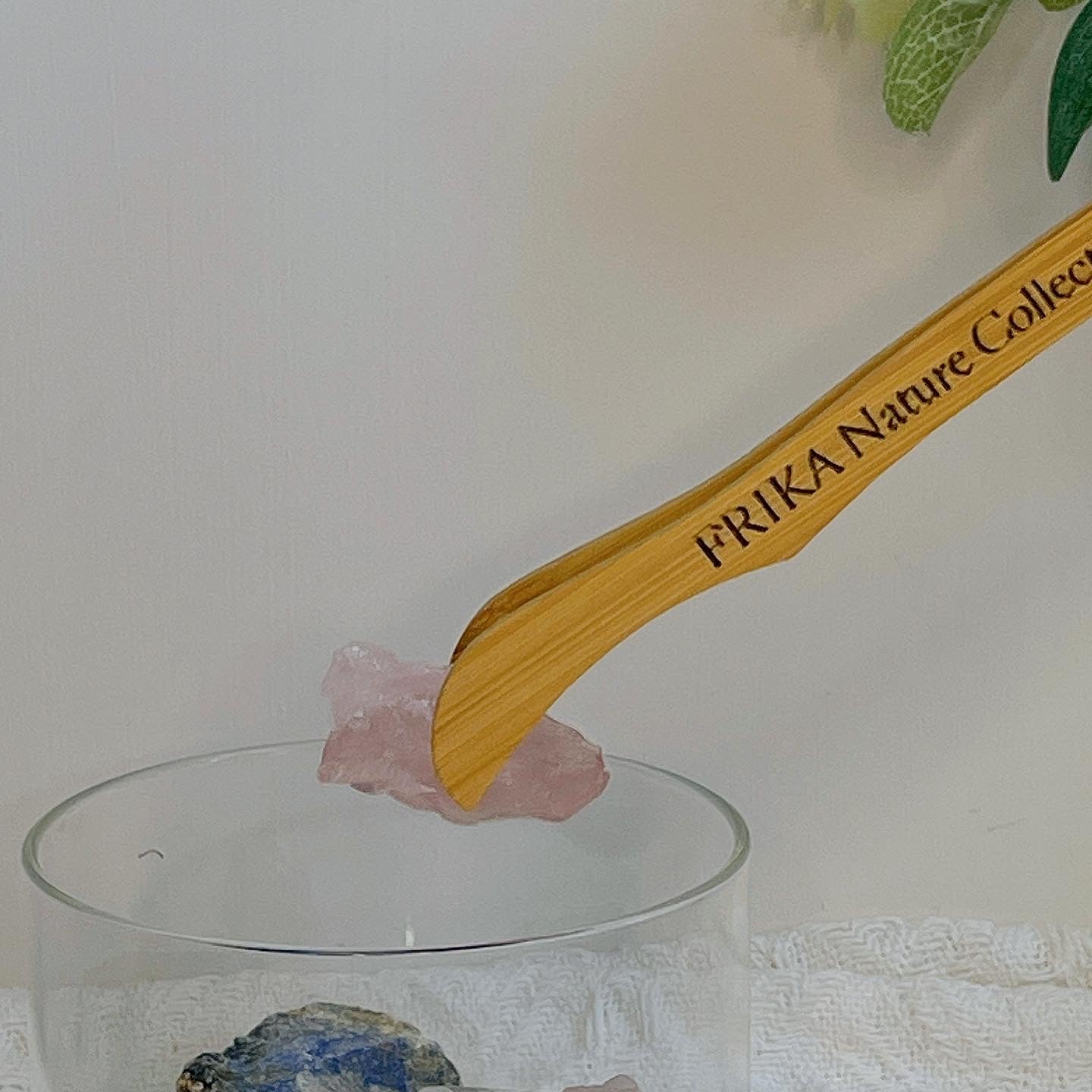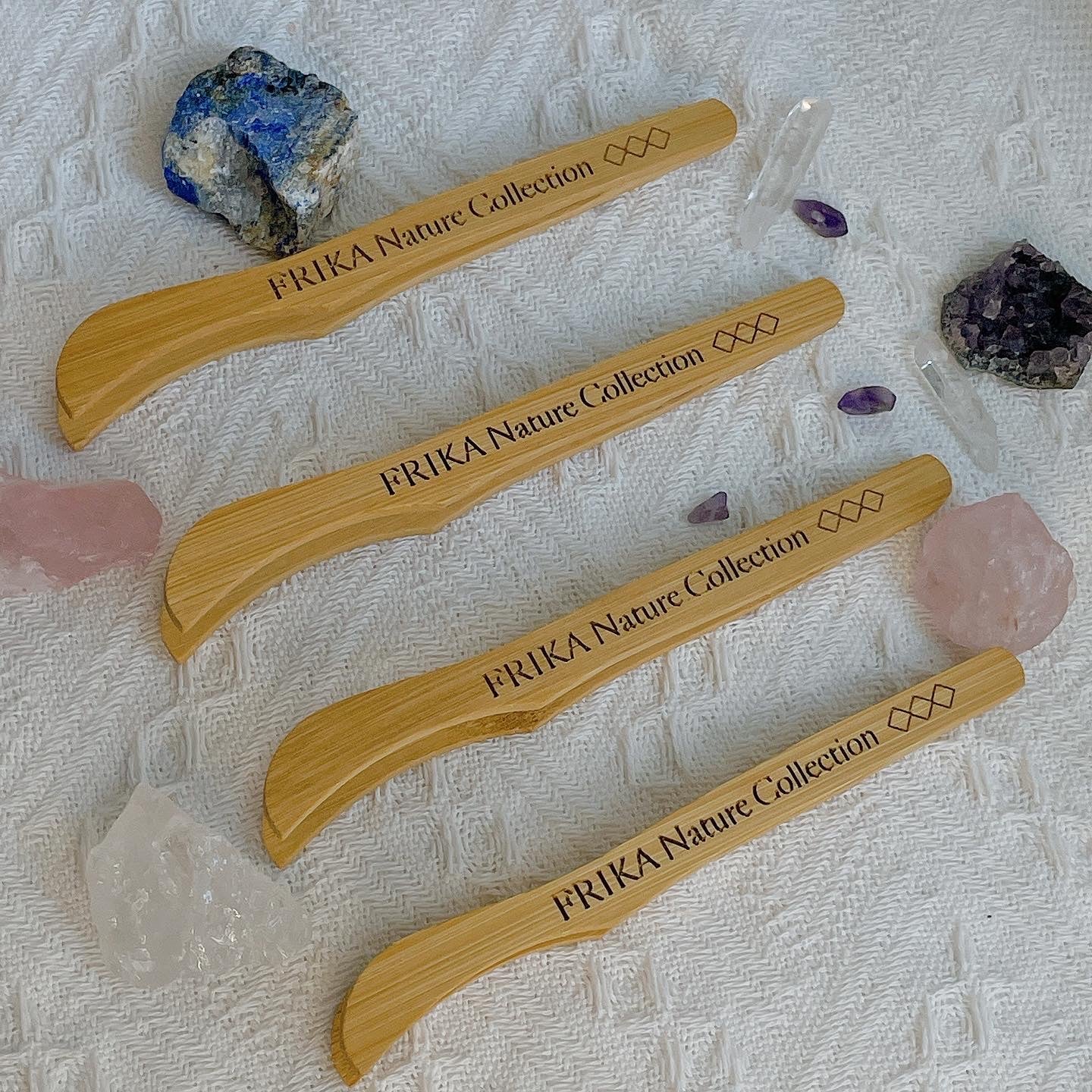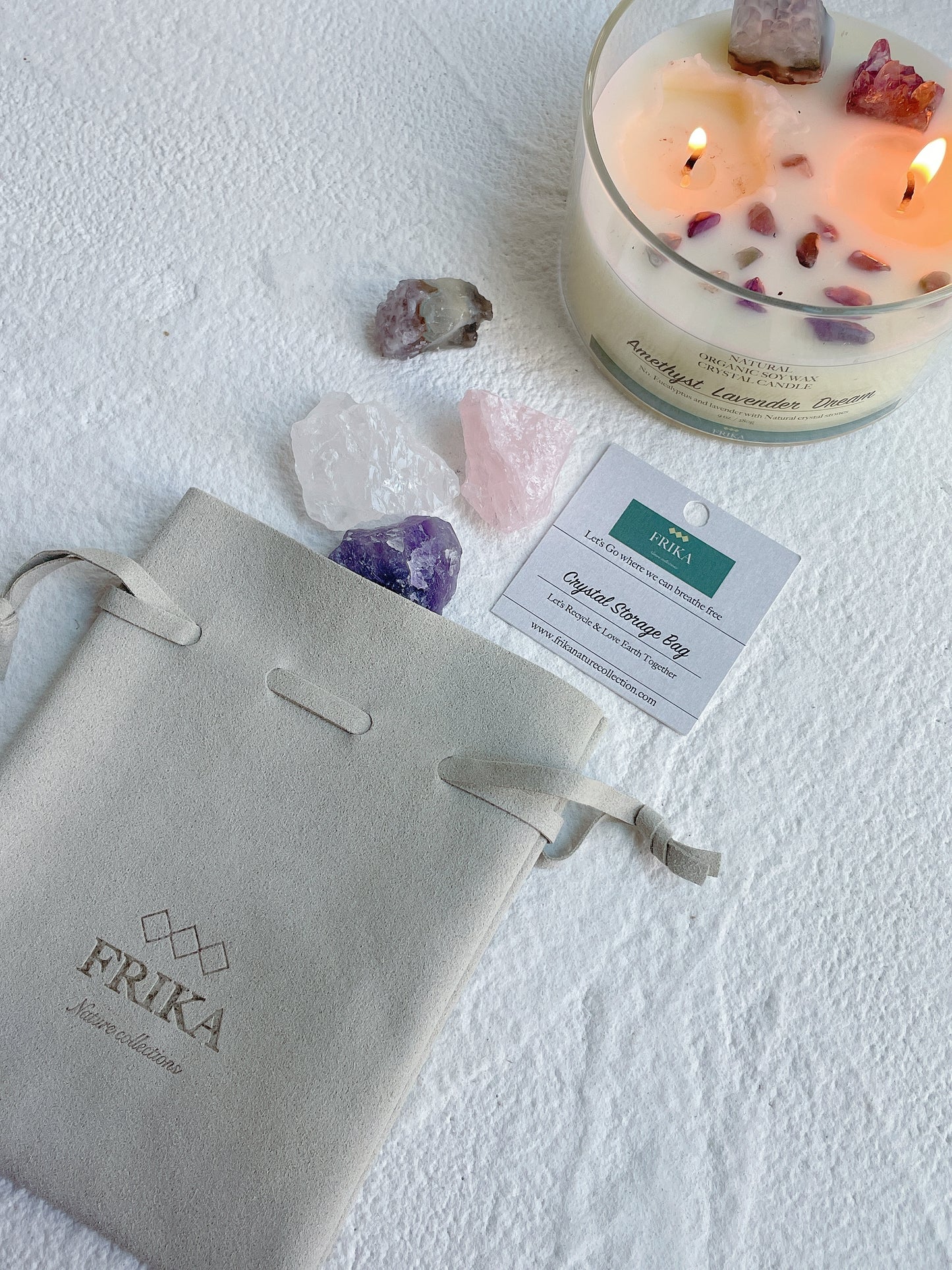 Feel cozy and calm with lavender smells and the shining stones😊
Really like the match of beautiful stones and the cozy smells☺️ It helps me feel more calm and peaceful in the hot summer☀️I think lighting the candle will become one of my daily routine💜
Dear Lorraine: thank you for your support and love ! we focus on creating more beautiful and soulful nature inspired designs, we hope our candles can boost your energy and take really good care of you! looking forward to see you again! xoxo
Makes an excellent gift for candle and scent enthusiasts
I purchased this candle as a Mother's Day gift for my Mom. It's actually quite difficult to find natural/organic candles in the U.S. Let me tell you, it's an experience from unboxing, to the visuals, to the very fragrant scent.
I was a little concerned since the candle was coming from Hong Kong to the U.S., but Frika Nature clearly takes pride in their products since it was packaged exceptionally well and made the journey around the globe undisturbed.
Part of the reason no damage came to the candles is because these candles are shipped in its own individual wooden boxes. (I ordered several because these are TOO good of gift options for upcoming birthdays and holidays.) Frika Nature has an eye for detail because the boxes don't just serve as protection during shipping, but are attractive enough to keep for display or to hold for safe keeping when not in use. It's not even the focal point of the product, but it's a nice touch in it of itself. My Mom plans to repurpose the box because of the quality.
The candle itself is beyond stunning. The organic soy wax is a minimalistic cream color, but is adorned with beautiful amethyst that's carefully scatters on the top layer of the candle. My Mom absolutely loves the color purple and amethyst, so the product has the feel of being tailor-made for her.
Now the big thing, the scent. Personally, I am VERY cautious when it comes to candle scents because sometimes they can be too overbearing. And while this candle's scent is strong, it's not obnoxious at all. It somehow maintains a light aroma despite being dispersed quite generously through the air.
My relatives were a little on the jealous side when my Mom opened her candle because it's the total package! It's beautiful, smells nice, and doesn't even have to be lit to have a pleasant smell.
My Mom told me that she doesn't want to light it because she likes it so much. But I assured her, I would order more in the future for her. I even had my relatives immediately ask me where I purchased the candle because they want some for themselves.
Seriously, if you need a gift idea, this is the one. Or, if you're an avid candle or mineral lover, just do yourself a favor and buy one. Thanks Frika Nature, you have some amazing products!!!
Definitely relaxing and healing !
It's a really special burning with the light on the crystals!!! We love it! Fast shipping and really nice quality! Highly recommend
FAQs
✨What makes FRIKA's product so different and unique ?
Bringing the Western adventurous spirit combing with artistic creation, FRIKA's candle & Fragrance is one of the kind. It's a mixing pot of all the natural elements as well as connection with human being. The special burning, smell and relaxing moment is here to take good care of you and boos your energy.
✨What are your Candle made of?
FRIKA's candle is made out of Pure Organic soywax from USA, our cotton core / wood wick imported from USA, We use sustainable products that are vegan, cruelty-free, phthalate-free, and never tested on animals.
✨ What can i do with the Candle Jar?
FRIKA's candle jar is special design and can tolerate high temperature, we encourage for reuse and recycle for plants, storage and be as creative as you can be, it can be put in the oven as well! Surprise us with your creation.
✨Where are the Crystals from?
All of FRIKA's crystals are purchased directly from the origin countries. Before making our crystals into products, our team washed and filter each of  the crystal with pure water, setting it under sun and moonlight, purified with Califorina flora white sage to make sure crystals are pure and charged with energy.
✨What's your shipping arrangement?
FRIKA values your time and we usually ship out in one working day on working days (Mon-Fri) , once the shipping is arranged, we will send tracking number via email to you.
Payment info
FRIKA supports different payment methods for HKSAR
 FPS: Please use the code:103765798 (FREEYARD CO. LIMITED)  to issue the payment, we will arrange shipment once the payment is done.
PayMe: Please scan the Payme QR code (FREEYARD CO., LTD_below to issue the payment, we will arrange shipment once the payment is done.
 Alipay: Please scan the Alipay QR code below to issue the payment, we will arrange shipment once the payment is done.
* If there's any question, please let us know. it's our pleasure to help out!
@FRIKA Nature Collection /  FREEYARD CO., Ltd